Contact Number:
We have a dedicated mobile phone to allow you to phone us and enquire about Meets; directions, etc. Please call 07342 283184. If your call cannot be answered, please leave a message.
Some news about a Beds Da member
It is with regret that we write to inform you that Daphne Richardson passed away peacefully on Friday 1st September at St Mary's Nursing Home, Luton, with her family around her. She was not aware of how ill she was and she did not suffer any pain at all.
The funeral has been arranged for Friday 29th September at 12.00pm at The Vale Crematorium, Butterfield Green Road, Luton, LU2 8DD. It will be in the small chapel near the entrance of the cemetery.
Following on from this there will be… a reception at the Rose View Suite, Offley Place, Kings Walden Road, Great Offley, Hitchin SG5 3DX. This is only 9 minutes by car from the crematorium. We hope you will be able to join us on the 29th September to celebrate mother's life.
We request family flowers only. There is a memory giving page which has been set up for Daphne, with all funds going to the RNLI Gillingham branch. This can be found at the following web address: https://www.memorygiving.com/daphnerichardson. You can also send donations to Neville's Funeral Service, Marsh Road, Luton, but they will not be able to take donations on the day.
There will be a book of condolence at the reception for you to write in any memories you have of Daphne.
Daphne was a very valued member of Beds da.
Daphne Richardson – All donations in memory of Daphne can be made to the RNLI Gillingham area.
Help run your DA
Bedfordshire District Association is your D.A.  We will welcome any help with our meets from stewarding to becoming a committee member.  If you feel you can help please contact Albert, your Chairman for stewarding.  Julie, your new secretary will have forms for you to come onto the committee.  The committee this year is running on minimum numbers and if we don't have a committee we can't run as a D.A
Beds DA Christmas meal
Musgrave Arms
Christmas Menu for 18th November
Starters
Ø Clementine, feta and winter leaf salad
Ø French onion soup with croutons and melting gruyere cheese
Ø Smoked chicken and ham terrine with piccalilli
Ø Grilled sardines on toast with spicy tomato chutney
Mains
Ø Turkey steaks with Brussel sprouts, apricot and chestnut stuffing, roast potatoes, creamed parsnips and pigs in blankets
Ø Spicy vegetable pie with seasonal vegetables
Ø Pan fried hake, chorizo and white bean cassoulet
Ø Beef fillet, dauphinoise potatoes, spinach and baby carrots
Desserts
Ø Christmas pudding with whiskey custard
Ø Winter berry crumble with custard
Ø Chocolate brownie with vanilla ice cream
Ø Prosecco fresh fruit jelly
Side orders
Ø Honey roasted carrots and parsnips
Ø Brussel sprouts
2 courses for £20.00
3 courses for £24.00
Booking for this meal is required.
You can phone the hotline on 07342 283184 or e mail the secretary on bedsdasecretary@outlook.com
We have limited spaces for this meal so please book early to avoid disappointment
Camping available 17th 19th November 2017 at the Musgrave Arms
Beds DA AGM 2018
The Annual General Meeting of the Bedfordshire District Association of the Camping and Caravanning Club will be held on Saturday 3rd March 2018 commencing at 3:00 pm.
This shall take place at Cardington Village Hall, Southill Road, Cardington, MK44 3SP
All members are invited to attend.  Please remember to bring your valid membership card with you.
If you are thinking of coming onto the committee nomination forms are available from the Hon Secretary at: bedsdasecretary@outlook.com
Completed nomination forms must be received by the Hon Secretary by two weeks before the AGM
Cardington Village Hall 3rd March 2018 AGM
PLEASE SUPPORT BEDS DA AT THIS IMPORTANT EVENT
St Patrick's Weekend 
16th to 18th March 2018.
Our very popular St Patrick's Day celebrations will take place on Saturday 17th March 2018.  Camping for the weekend is at The Cock Broom.  Saturday evening will be in Broom Village Hall, just up the road from camping behind The Cock PH. A 3 course meal for £6 per person (£1 extra for evening visitors) with fun, games and music.  Please book on 07342 283184.
Menu
Leek and potato soup
Boiled bacon and cabbage or Irish Stew and potatoes
Desert
Could you Steward a meet?
It really isn't that difficult, and you will get all the support you need. There is no requirement for entertainment or any other elaboration (but if you wish to do so then great). Beds DA have meets arranged for 2017 and now need you, the members to help by Stewarding; show us what it is you are looking for and let's try to do it.
For more information, contact Albert on 07342 283184
For your diaries: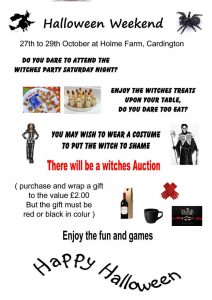 Halloween meet opens at 12 o'clock
Musgrave Arms Shillington SG5 3LX
17-19 November 2017
Christmas social in the pub on Saturday evening (18th)
Menu available nearer the time.  To book your place contact Albert on 07342 283184
THS Netley
We had a very successful THS at Netley this year (2017).  The stewards put a lot of time and effort into making it a great meet.  We will be going back to Netley in 2018, 20th July to 5th August.  Why not come and try us or come back and meet old friends and make some new ones.  Mel and Kath are our stewards.
Chiltern Region Summer Meet
This will be taking place in June 2018.  Please keep checking for up dates.
DA Photos
A new heading has appeared on the menu bar for Galleries. This shows Photos from 2016 onwards. If you have any photos to contribute, please send them to the Webmaster (webmaster@bedsda.co.uk)
Changes to Beds DA Meet Fee Policy
At the 2014 AGM a question was raised regarding our "per unit per weekend" meet fee policy. Your Committee have discussed this and have decided that at times this policy can unfairly penalise those who have been unable to attend for the complete weekend. A new policy has therefore been introduced:
On normal meet weekends (i.e. Friday to Sunday) the fees will be set at half the prevailing weekend rate per night, plus £2.00  for those attending for Saturday night only. For Bank Holiday weekends and Temporary Holiday Sites, a nightly rate will apply. For Special Events (e.g. Birthday, New Year) a per unit fee will apply
A note from the webmaster
A question raised at a previous our AGM said that the some site directions were lacking. There is plenty of scope for including this here, but I need YOUR help.
If you have a postcode of a site, please can you let me know it.